Client Success Stories
Timothy Hartzog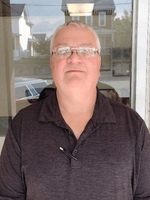 Carbon County Action Committee for Human Services
Self-Sufficiency Award Recipient
Awarded Air Force Veteran.  Believer in hard work and determination.
When Timothy first contacted the Carbon County Action Committee in the summer of 2020, he was unemployed, living in a rooming house, and was behind on his rent. He was using SNAP benefits and food pantries to sustain himself. Tim grew up in Carbon County and went into the Air Force in 1986. After serving for eight years, he left the Air Force in 1994 after receiving numerous service awards and medals. One award was a service medal with two bronze stars.
After returning to his home in Carbon County, he supported himself with several good jobs, but in 2016 he became the in-home care provider for his ailing mother and took care of her until her passing in 2018. By the time CCACHS met him, he had no vehicle and walked to obtain food and wash his clothes at the laundromat. He talked about how living a simple life suited him and he was having a very hard time finding work. The pandemic shut down many of his job opportunities and the fact that any job had to be within walking distance severely limited him.
Timothy was concerned about becoming one of our nation's homeless veterans. However, Tim was not discouraged. He enrolled at Career Link for help in his job search. He continued to keep in touch with the Agency, and they were on the lookout for a job for Tim. They noticed a listing for a car rental company right in Lehighton that was for part-time help. "We told him about the job and he was hired right away. It was only part-time, but he was thrilled to be earning money again. We assisted him by paying his rent arrears and by the fall of 2020, he was on his way to self-sufficiency. He even opened a savings account!" shares CCACHS.
Due to Tim's willingness to "go the extra mile", he was rewarded with additional hours and even could pay his own rent now. He is no longer receiving SNAP benefits and is keeping up with his expenses. By the beginning of 2021, Tim had almost doubled the number of hours he worked. His monthly income was approximately $500 more than when he started. As a result of his diligent work on the job, he became eligible for benefits in April 2021.
Carbon County Action Committee for Human Services is extremely proud of Tim, and his accomplishments are a testimony to the fact that determination and hard work can pay off in the end. They are glad to have been of assistance to him.