Client Success Stories
She'Cholle Winmon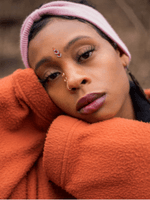 Allegheny County Department of Human Services
Self-Sufficiency Progress Certificate Recipient
Incredibly resilient.  Steadfast in achieving her goals.
She'Cholle was referred to Supports for Success by the Family Care Connection in Turtle Creek for help with basic needs, education, and employment goals. She'Cholle expressed being motivated by her children and wanting to ensure that they were happy, secure, safe, and she was in a position to help them be successful in school and life. She'Cholle was struggling financially to make ends meet and asked for help obtaining employment and finishing her Bachelor's degree.
In October 2019, She'Cholle was referred to the Customer Assistance Program and LIHEAP for help with utility arrears; the Veteran's Leadership Program for rent, utility, and financial assistance; and Off The Floor for furniture. In addition, she received emergency aid, such as food & Aldi gift cards from Turtle Creek Food Pantry, and clothing, hygiene, and holiday gifts for her children from the Human Services Center Corporation. She'Cholle built a strong support network, obtained a full-time job, earned a Human Services Certificate in Child and Family Services, and achieved a Bachelors Degree in Human Services and Youth & Family Services and Administration.
She'Cholle is working toward homeownership with support from the Veterans Leadership Program and Habitat for Humanity. She obtained child care assistance from ELC and Safe Families for Children and car repair assistance from the emergency assistance program at HSCC. "She'Cholle's strength, courage, resilience, and her ability to overcome adversity and remain steadfast toward achieving her goals are incredible. I am very proud of She'Cholle," says her Support Specialist, Iris.
She'Cholle moved away in March of 2021. However, she continues to work remotely with her case manager, Iris. She earns over $20 an hour with benefits, increased her credit score to over 140 points, and expects to complete her Habitat for Humanity hours and move into her new home in November of 2021.
She'Cholle remembers how reluctant she was about reviewing and discussing her monthly budget but states that she now "loves" using a budget because it helps her track her spending and achieve her financial goals. She'Cholle shares of Iris, "You were there for me when no one else was and I truly appreciate that. Being a caseworker is hard because you don't necessarily see the rewards of helping but I promise I will make you proud. I want you to know that everything you did for me and my children has helped me reach my goals, and I will continue to do so."