Client Success Stories
Sandra Cintora-Lopez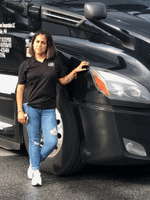 PathStone Corporation
Self-Sufficiency Award Recipient
CDL Driver. Exemplary mother of three. Grateful for her chosen career.
"You!? You want to be a CDL driver?" people always asked Sandra when she told them about her long-term goal to someday obtain her CDL Class-A License. Sandra grew up being told that driving tractor-trailers were only for men, and it was a job only men could do! Regardless of the fact she is a female and is only 5ft tall, one of Sandra's biggest aspirations was to someday be behind the wheel of a tractor-trailer. Sandra has always enjoyed driving long distances and was looking for the opportunity to make this a lifelong term career. But for her, the training was too expensive.
Sandra is a single mom of 3 beautiful girls whom she has supported and cared for by herself all their lives. For this reason, it had been difficult for her to save up money to pay for this training. Sandra did not have the opportunity to go to post-secondary school, because she got pregnant at a very young age and had to provide and support for her family. She was a harvester for many years, waking up at 3 a.m. to pick mushrooms paid at a per-piece rate. Sometimes she was making $150-250 a week, which was not enough to support three daughters and herself. She wanted her daughters to look up to her, and be proud of having a mother who lacked education and was still able to have a successful career.
Sandra came into our Pathstone Office seeking information about our CDL program. They validated her documentation and explained all the services Pathstone could provide to her as a farmworker. They contacted the AAA School of trucking in Philadelphia, which was the school she was to attend during the evening to obtain her license. Sandra struggled with the classes since she was not fully bilingual, but this was not an obstacle. With the help of the instructor and Pathstone staff reviewing and going over test questions, she was able to pass her permit exams. After completing her road test, Sandra obtained her Class CDL A License. Sandra was so happy and proud of herself when she received her diploma of completion!
Pathstone assisted Sandra by helping her get a job as a CDL Driver with To-Jo Mushrooms. Sandra was so excited to finally start working a full-time job as a driver! She mentions how she wakes up every morning with happiness and energy for work - it's something that had never happened to her! With this new job, she hopes to save up enough money to purchase a new home for her daughters! They are glad to hear Sandra is doing great and wish her much success with any new goal she wishes to achieve!