Client Success Stories
Neiomi Crawford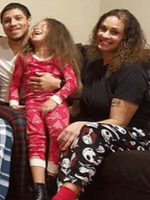 Central Susquehanna Opportunities, Inc.
Self-Sufficiency Progress Certificate Recipient
Made strong by experiences.  Proud of her "Never Quit" example.
Neomi, a single mother of five teenage children, came to CSO in January 2019 searching for assistance with past rent due and utility bills. She was on medical leave from her part-time job at Majik Rent to Own (MRO), causing her to fall behind on her monthly expenses. She worked with CSBG case management and financial literacy workshops to create a budget and gain financial skills. CSO assisted with her past due rent and referred her for overdue utility bills.
After medical leave, she worked her way to full-time status and began training for a leadership position. Then missing work because of medical issues, delinquent bills caused her to seek help from her church, grandmother, and CSO. Her sons had behavioral problems that caused her to miss work often, and she eventually lost her job at MRO. Fortunately, strong relationships with that employer resulted in a letter of recommendation and references when she was ready to seek new employment. Neomi was proactive, worked with Children & Youth, and engaged Probation to help her sons' behavior improve.
Neiomi was then accepted into the WATCH program, where she started classes to obtain a Certified Nurse Assistant (CNA) certification. She began working at a nursing home. She finished her CNA classes but was unable to take her certification test because of COVID-19: students could not enter the nursing home. The lower hourly rate than the sought-after certified rate led back to financial strain.
Neiomi was worked to become a full-time Clerk II position at the County Assistance office earning $16.00/hour plus benefits. She is now helping people overcome the same hurdles in their own life. She won an Outstanding Customer Service award. Neiomi also works per diem as a Nursing Assistant, focuses on more than basic needs, paying down debts and building retirement savings. Neiomi moved beyond a lifestyle of legal issues and substance addiction to give back to her community. She is involved in her church, created an adult & teen recovery program, and her two oldest children graduated high school. She attributes her accomplishments to a healthy support system that includes CSO, her pastor, family, friends, and her fiancé.
Neiomi shares, "I am someone who has been through everything imaginable, and while a lot of my sad times in life are the cause of my wrong decisions which led to costly mistakes, they are the moments that have defined me as a woman and made me stronger. I have been down in life, but I do not quit and that is one of the things I have instilled in my children that I am most proud of above all else."