Client Success Stories
Maria Buchleitner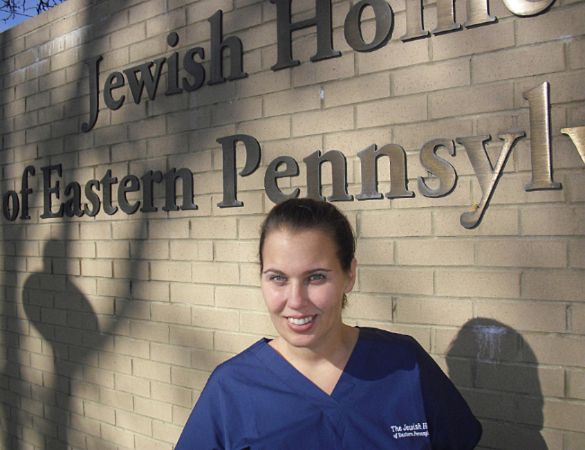 Having heard about the Workforce Investment Program from a friend, Maria Buchleitner came into the PA Career Link office looking for help in May 2012. Ms. Buchleitner had just lost her husband unexpectedly, and he had made the primary income. She worked as a Certified Nurse Aide at St. Mary's Villa and took care of their 3 children (Shawn 15, Alesha 12, and Jared 11). But when her husband died she was left with no money, no SSI (he was self-employed), no medical benefits, bills to pay, and children to raise.
Ms. Buchleitner knew that she needed training to improve her skills, become more marketable, and bring in more money since she was the only one to raise her children. Ms. Christie DiPietro, her case manager, worked with her by doing a variety of assessments, helping her become educated in high occupation fields, and directing her to Workforce Investment Assistance. Ms. Buchleitner met with Ms. Carolyn Quinn from the Educational Opportunity Center to discuss career paths and financial aid. Ms. Buchleitner began to research different programs that offered LPN training and started the admission process.
In November of 2012, Ms. Buchleitner was accepted to Wilkes–Barre Vo-Tech to attend the LPN training class. The Workforce Investment Act provided $5,000 toward the training program. Ms. Buchleitner wanted to be able to be self-sufficient and not in debt. So, for the months before training began, she worked as many hours as possible to earn money for her training.
Christmas was a very difficult holiday to get through, as not only was her husband gone for the first time, but she was not able to give her children all the things she had wanted. Ms. Buchleitner felt horrible, but then her son reminded her that they supported their mother, knew what she was trying to accomplish for not only herself, but them, and said it was a great Christmas. Ms. Buchleitner was proud of her son and knew that she and her husband has raised her children right.
Ms. Buchleitner began LPN training at WB Vo–Tech in March of 2013. She loved the training, as it kept her busy, however it was a lot to deal with as she was also involved in several community activities with her children. She was having a hard time finding a balance but managed to do so with the help of her children. Ms. Buchleitner was able to maintain her GPA and continue activities, but she continued to struggle financially, emotionally, and mentally. She always made sure her children were taken care of, and they admired their mother and supported her as much as they could.
During break, the Scranton Lackawanna Human Development Agency began to help Ms. Buchleitner look for employment, and she was hired part-time at Golden Living as a CNA. Things seemed to be looking up, and then winter hit. Maria began to struggle to pay her heating bills, so she was referred to several different social service agencies in order to get help.
Ms. Buchleitner graduated in June of 2014, passed her boards in July, and was officially a LPN. Her job search was challenging, as she needed a day shift job. The doors opened wide for her when Ms. Barbra Sankar, the job developer, reported that the Jewish Home was looking for a full-time, day shift nurse. In August, Ms. Buchleitner was employed by the Jewish Home. She continues to work for the Jewish Home, take care of her children, coach, and support the community. She even restarted the process of building her new home which had been put on hold following the death of her husband. She wants her children to be happy, and she wants to continue to be part of the community giving back, whether it be through coaching a cheerleading team or just holding someone's hand to let them know that someone cares.