Client Success Stories
Lucio Edy Arreola Monroy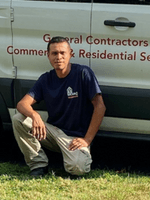 Pathstone Corporation
Self-Sufficiency Award Recipient
Grateful for family, his employer, and Pathstone. Believer in himself.
"Edy" Arreola migrated to the United States at age 19, coming from a small town called San Juan Jaripeo located in Guanajuato, Mexico. Edy had the American dream that everyone dreams of; coming to the United States for a better future. Being an undocumented worker at the time, Edy had many jobs that required much physical work and long hours of work. He was sometimes working 60-70 hours a week earning the minimum wage. It was very frustrating for Edy because it took all his time away from his family, wife, holidays, and every important moment.
Being an undocumented worker was one of the most difficult situations he dealt with here in the United States. Edy had two children from his first marriage and married again a couple of years later to his second wife. Fortunately, while here in the United States, Edy had the opportunity to apply for his permanent residency. During the long, stressful and expensive process, his caseworker helped him get approved for his permanent residency. This was such a positive change for him. He was so thankful to be able to work a normal job and not be mistreated for being undocumented.
Edy had contacted PathStone for help finding a job during the shutdown from the pandemic. They assisted him via Zoom and by working from home on his case. Edy was "data validated" and enrolled in their Training and Employment program. In it, they were able to connect him to a company that was willing to train and teach him a new skill. Since day one, Edy wanted to learn skills and make a career out of them. He was very interested in learning about construction and carpentry. They were fortunate enough to connect with MOBAC, who at the time was urgently hiring and willing to train. They coordinated the interview with the owner, Richard Basilio, who hired him on the spot. Edy was so happy and thankful for the opportunity. We heard nothing but great things about both sides!
Every time Pathstone speaks to the owner, the owner always says, "We need more employees like Edy." Edy is so happy, and he thanks MOBAC for the opportunity and training they have provided to him. Thanks to this new job, Edy has a better salary, can spend more time with his family, and was able to purchase a first-time home! Edy cannot express how grateful he feels for the opportunity PathStone and MOBAC provided him! Pathstone wishes nothing but the best to Edy.