Client Success Stories
Karen McLeod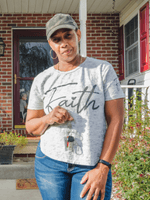 South Central Community Action Programs, Inc.
Self-Sufficiency Award Recipient
Keeping faith.  Loving a good life. Teamwork makes her dream work.
Karen and her sister came to Chambersburg from Jamaica when they were in their late teens to live with their father. When her sister suddenly passed away, Karen took her sister's daughter in and raised her as her own. She lived for her girls, which meant to get by, she had to work a lot of hours. It still wasn't enough to support her young family. At times it felt hopeless – but her faith kept her going.
While Karen and her family had used SCCAP services to get by, she didn't hear about SCCAP's Support Circles initiative until a friend invited her to a meeting. She had been doing nothing but working. Circles gave her protected time to think about her future and to socialize. The people around her understood hard work and struggling to live paycheck to paycheck. The hot meal, activities for children. and a place where she could laugh, create goals, and listen to others. This created breathing space and was inspiring. Karen set goals for long-term stability, including purchasing a house and starting a business. She started working to improve her credit.
Then she got sick, really sick, and had to have surgery. It took her months to recover. She had always been a great employee, so her work kept her job available for her. When she returned to work she had a bigger financial hole to dig herself out of. However, she wasn't afraid. She had her faith, and she had a plan. Her credit score was in the low 500s – mostly because she had no credit. She learned about credit and slowly began to dig herself out. She got a secured credit card and paid it off on time, along with bills. "Karen worked hard," said Megan Shreve, SCCAP's CEO. "But she was never afraid of hard work. Once she created a plan for a better future, nothing held her back. She wanted something more for her family, so she set and met goals to make it happen!"
Once her credit card was ready, she started looking for a house. A friend let her know about a home with a beautiful weeping willow tree in the front and a beautiful kitchen where she could work on her other goal, starting a business. It was all she had hoped for. Karen went through the mortgage process, and she was approved! Karen and her family became the proud owners of a beautiful house in a family-friendly neighborhood outside the city. But Karen didn't stop there; her job allowed her to take a three-day work schedule which enabled her to spend time with the girls and work on her business. Today, Karen sells Jamaican-inspired food on the weekends. It is something she loves, and something tied to her roots. Karen works to help others, participating in groups that help make the community more equitable, celebrating diversity, and of course, she still values her relationship with God. He had a plan, and she worked that plan, so today her life is very different. "Never give up on your dreams," said Karen, "Teamwork makes the dream work. My girls and I all work together, and we have a good life!"