Client Success Stories
Julian Thompson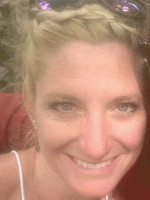 Lycoming-Clinton Counties Commission for Community Action (STEP), Inc.
Self-Sufficiency Progress Certificate Recipient
Enjoying personal & financial freedom.  Using her support systems.
Julian entered the Work Ready Program at the very start of the COVID-19 Pandemic in March of 2020. Julian was a single mother fleeing domestic violence. Julian and her two children were previously living outside of the United States, in St. Thomas with a partner who was destructive. Julian decided she and her children needed to leave paradise and move back in with her mother in Lycoming County. When Julian entered the program, she was uncertain of almost everything and overwhelmed with stabilizing things for her family.
While facing the global pandemic that shut down schools and daycares, much of the stability that she was seeking also shut down. As things started to reopen and they moved from red to green, Julian worked diligently on establishing a safe and secure life for her family. Julian placed both of her children in Bostley's Daycare in the summer of 2020. This step offered her the freedom to address her needs, provided support, and promoted the growth of her children. Julian also started to attend community service at Goodwill and reported enjoying the freedom and camaraderie that she found there.
In September of 2020, Julian obtained employment with Goodwill working 20 hours a week. Due to her employment status, she was eligible for a SPAL that assisted her with a car purchase. Julian reported feeling happier and more secure than she had in years. During the past year, Julian has put in a lot of work to ensure that her children have the stability and supports they need. Julian has also worked to ensure that she has the supports she needs to cope with the past. In September, Julian celebrated her one-year anniversary with Goodwill and voluntarily closed her TANF.
Julian now demonstrates knowledge and the ability to execute financial management. Julian has attended workshops on budgeting and has learned to develop a budget that balances her family's needs and wants. Julian also has a checking account and can receive her paychecks from employers by direct deposit.
When Julian entered the Work Ready Program, she was unaware of the local community resources and had a limited support system. Over the past year, Julian has learned about her community resources and developed both formal and informal support systems.