Client Success Stories
Jocelyn Walters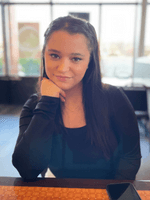 Bucks County Opportunity Council, Inc.
Self-Sufficiency Award Recipient
Survivor of physical trauma. Rebuilt her future life story.
In 2018, Jocelyn was involved in a drunk driving accident resulting in the driver leaving her partially paralyzed with severe head trauma. She withdrew from her college courses and was no longer able to work or support herself. Working through her injuries, Jocelyn attended physical therapy daily, relearning her motor and life skills. Despite the odds given by her doctors, Jocelyn was determined to succeed and enrolled in the Economic Self-Sufficiency Program (ES) with hopes of starting her life over.
Jocelyn had been in the foster care system in supportive housing, which afforded her a bit of a safety net while she got back on her feet. With the help of her ES coach, she re-enrolled in her classes and began going back to the community college. She found full-time employment at a local restaurant and moved into her own apartment, which she maintains on her own using minimal supports from her ES coach. She is currently going for her Associate's Degree in Social Work and works as a Peer Advocate at the college; she is also the President of her student club. She continues to work full-time as a Mental Health Advocate and gives back to her community. Her goal is to transfer to a four-year college and obtain her Bachelor's Degree in Social Work and work with youth living in the foster care system.
Although Jocelyn survived growing up in the foster care system, aging out when she turned eighteen, being moved to supportive housing, and being struck by a drunk driver and unable to walk, she has shown great strength. Learning, and then relearning basic life skills. She never gave up on her journey when other caseworkers had given up on her. She continued to work with her doctors and was able to re-enroll in school part-time while working full-time.
Jocelyn had to rebuild her future story. She has surrounded herself with a network of supports from BCOC, local church organizations, volunteer groups, and non-profits within the community. She is now a student advocate at her school, has developed life skills, and is a Mental Health Advocate at her place of employment.