Client Success Stories
Jacqueline Rodriguez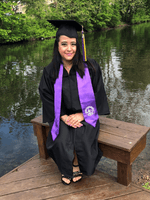 Community Action Committee of the Lehigh Valley, Inc.
Self-Sufficiency Award Recipient
Living her American dream. Prepared for any future situation.
Jackie graduated from CACLV's transitional housing program, during which she completed two years of college. When she exited the program, she received a housing voucher. In 2019, she got her Bachelor's degree in Healthcare Administration. She has been working for two years, both working from home and performing home visits to clients with disabilities. As of June 2019, Jackie has been free of SNAP. Jackie was able to qualify for the FSS program through Lehigh County Housing Authority and purchased her first home in August 2021. So she no longer receives section 8 assistance!
Jackie is a Service Coordinator and makes over $20 an hour, which makes her financially independent. She is the sole provider for her and her sons. She recently relocated out of the city to provide a better quality of life for her family. She is building up her credit score and has improved it by 100 points in the last two years. She works on a budget, pays her bills, has a checking and savings account, and just purchased a new 2016 hybrid car. She owns a 4-bedroom, 2-bathroom, Cape Cod home with a garage. She is living the American dream with two adorable dogs, a beautiful patio, and a big yard for the kids to play football in-she just needs to get a picket fence now! Through Jackie's job, her family receives health insurance.
Jackie lives in central PA and her job requires her to know social services and community social service issues. She is already well immersed in her community, working on managing her credit, paying off credit cards, and developing savings. If she lost her job, then she has a degree and could seek new employment. She is also starting another part-time job to increase her savings.
Jackie learned resume writing, interviewing skills, and job searching in her past transitional housing program. She has proficient computer skills from her college classes. College was not easy as a single mother, and she did it online, while also working. She loves to learn and reads a lot. She is currently reading a book on successful negotiations and showing appreciation in the workplace.