Client Success Stories
Estefania Martinez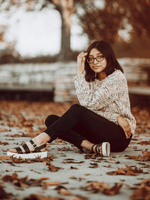 Community Progress Council
Self-Sufficiency Progress Certificate Recipient
Successful college student.  Grateful for the tools she's acquired.
At just 18 years old, Estefania Martinez was the youngest participant to enroll in Community Progress Council's Getting Ahead course, the first step in working toward self-sufficiency. Today, Estefania is attending Harrisburg Area Community College and plans to transfer to Temple University in two years.
Estefania now also works, is keeping a budget, and manages a planner to keep herself motivated. All the while, she is completing her tasks on time. She is also now working with a bilingual self-sufficiency coach who has partnered with her to achieve her "future story" and additional financial stability.
"In this world, there are times where you cannot get by, just by yourself. As an eighteen-year-old, I've come to learn how hard the world can be and how hard it is to manage money. Thankfully there are many ways that you can learn and get ahead. CPC offers many routes that set you up for success. As I slowly adapt to the new world of the workforce, I'm glad that I have the tools needed for my future," shares Estefania about her outlook on her success in life today.