Client Success Stories
Elizabeth Sheely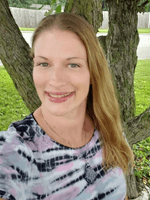 Community Progress Council
Self-Sufficiency Progress Certificate Recipient
Passionate Advocate. Living with a clear vision, one step at a time.
Liz Sheely's daughter started attending Community Progress Council's Head Start program in 2018. Through her Family Coach, Liz was referred to a newer CPC program called Getting Ahead in Just-Gettin'-By-World. Over the 16-week course, Liz learned how her childhood experiences and family dynamics affected her throughout her life. She eventually disclosed in the group that she was, at the time, celebrating two years in long-term recovery. Through the activities, discussions, and self-discovery that Getting Ahead provided, she realized that for the first time, she saw a hopeful future. Liz has received a job offer and will have the opportunity to be a Behavioral Health Technician at a treatment center in York County. She feels the education provided by Getting Ahead gave her confidence in herself and hopes to continue to share her living experience with others in York County.
Liz and her coach had deep conversations and assessed her understanding of where she was currently. She had not held a job in over 20 years due to her substance use disorder and mental health disorders. She lost her license five years prior. She discovered that her co-occurring disorders masked childhood traumas that went unresolved for years. Liz continued to gain insight and support from her trauma-focused therapist who began to help her heal and identify methods to help her when she feels overwhelmed with daily stressors. Over the next year of therapy, CPC's Self-Sufficiency Program, and continued connection with mutual supports programs, Liz was finally ready to begin exploring her career path.
Almost five years into her recovery, Liz pursued and obtained her Certified Recovery Specialist Certification. She obtained her driver's license and was able to drive to JFT Recovery and Veterans Support Services at the Lemoyne location. Liz continues to network and outreach in the York County area. She also currently volunteers at JFT in York, helping provide support, encouragement, advocacy, and sharing her lived experience to individuals seeking recovery support. Liz was nominated to the Consumer Advisory Board, which is a new initiative involving agencies and community members in long-term recovery with lived experience giving feedback to York County Judicial System. It creates more therapeutic approaches to those being arrested for committing crimes due to untreated mental health or substance abuse disorders.
Liz was accepted onto the Board and has found her passion for advocacy. She feels the education and support from Getting Ahead have opened up so many doors for her. She wants to be able to share her journey and lived experience with those struggling with co-occurring disorders to spread hope that RECOVERY IS POSSIBLE! Liz shares, "CPC and the Self-Sufficiency Coach gave me the support and encouragement to reach towards my short-term and long-term goals."