Client Success Stories
Chelsea Morales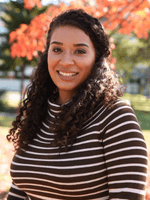 Community Action Committee of the Lehigh Valley, Inc.
Self-Sufficiency Award Recipient
'How can I make this happen?' mIndset. Risk-taker. Business owner.
No matter who comes to a Shelter, you get to learn about some of the circumstances that brought them to the Agency. But when they leave, you hope that the families you work with gain from their experience from there. While listening to Chelsea share her experiences with the Agency, she explained that she changed her mindset from "I can't" to "How can I make this happen?"
She shared how she started working as an Administrative Assistant at Moravian College. It was a good position but she was barely getting by, so she changed her goals and started a construction business. Chelsea said that it did well enough to enable her to create her dream business, Advancity Financial Solutions, where she does virtual tax preparation and assists others in doing this as well. Chelsea elaborated that she was open to learning new things, which encourage her to branch out even further.
Chelsea went on to say that she does not want to repeat her history, so she is continually building her resources and networking, along with a sizable nest egg. Needless to say, Chelsea is someone who is willing to take risks.
Chelsea believes that through her experiences, she continues to work on developing her skills. She also learned that changing the people she asked for help, enables her to avoid a mindset of "I can't" and maintain one that asks "How can I make this happen?"