Client Success Stories
Angelique Brown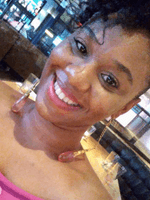 Allegheny County Department of Human Services
Self-Sufficiency Progress Certificate Recipient
Contagious enthusiasm.  Inspiring resiliency.
Angelique visited the Human Services Center Corporation and saw a Supports for Success program flyer. She expressed an interest in extra support to find employment, learn budgeting skills, and improve her credit score. The Support Specialist, Iris, understood that Angelique was extremely overwhelmed - her unemployment benefits were ending, she was behind on bills, and her credit card usage was at 90%. - and enrolled Angelique in the Supports for Success program in April 2019. During her first meeting with Iris, Angelique expressed a real sense of urgency about having no income to cover basic needs. Her primary goals were to obtain employment and improve her financial well-being. Angelique received assistance creating a resume, searching for jobs, submitting applications, and establishing job referrals. A budget was developed and a credit-score report was obtained to assess her overall financial well-being, determine available resources, and develop a realistic goal plan. Angelique obtained employment within a week of enrollment and was referred to Dress for Success for work attire, provided gas cards to get to and from work, and enrolled in subsidized child care assistance. Throughout enrollment, Angelique also received help to access utility assistance from LIHEAP, the Emergency Assistance Program, emergency food assistance from the Turtle Creek Food Pantry, and rent assistance from the CARES Rent Relief program. Angelique received ongoing budget and credit counseling, attended financial webinars, and met with financial and homeownership counselors.
"Angelique's enthusiasm was contagious and her motivation, resilience, and perseverance were inspiring," shares Iris. Angelique worked diligently to maintain her budget and improve her credit and overall financial health. Angelique maintained her budget, increased savings, addressed and paid off collection accounts, and improved her credit 100+ points. She saved for and purchased a reliable car in 2020, obtained a better-paying job in 2021, and was pre-approved for a mortgage loan - she purchased her first home in June 2021!
Angelique expressed gratitude to Iris and the Supports for Success program. She states, "I can't remember how I stumbled across the Supports for Success program, but I'm glad I did. Iris was there for me – she helped me with guidance and resources to achieve all my goals whether it was finding a job, improving credit, or even buying my house."