Client Success Stories
Angel Williamson-Irvin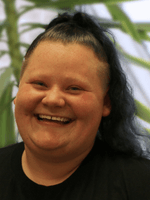 Lycoming-Clinton Counties Commission for Community Action (STEP), Inc.
Self-Sufficiency Progress Certificate Recipient
Criminal Justice student.  Employed to support her future.
Angel Williamson-Irvin is a 20-year-old that resides in Williamsport, Pennsylvania. She completed her high school equivalency at Penn State Career Pathways in August 2021 and was then referred to the STEP, Inc. Youth Enrichment for Success (YES) Program by a friend. Angel chose to engage with the YES Program because she wanted to work towards self-sufficiency by obtaining a high school equivalency, updating her resume, developing employment skills, achieving employment, furthering her education, and obtaining a safe, reliable vehicle.
Angel quickly made significant progress as she worked with a Family Navigator to develop a goal plan and identify community supports. Angel gained confidence as she worked towards attending those classes regularly for her high school equivalency, enhancing her employability skills and improving her time management and budgeting skills.
After obtaining her high school equivalency, Angel remains employed and more recently enrolled with American InterContinental University (AIU). She is working towards a Bachelors's Degree in Criminal Justice.
Angel continues to increase her self-sufficiency by maintaining her employment and furthering her education to support her and her partner's family.