Client Success Stories
Anayancy Gutierrez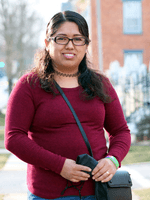 Community Progress Council
Self-Sufficiency Progress Certificate Recipient
A dedicated student of life.  Motivator of friends and family.
Anayancy Gutierrez came to York County with a dream to become independent and give her family a more secure future. Anayancy believes that education is the key to her family's success and has been enrolling in many classes and workshops through Community Progress Council to help bring her family to financial self-sufficiency.
She enrolled in CPC's Self-Sufficiency Program, which pairs residents ready to make changes in their lives with a coach who will work with them long-term to create and achieve their goals. Anayancy is now working, has learned to drive, and has been able to pay off her credit cards. She is a co-facilitator in CPC's Getting Ahead classes to help others in her community make progress in their lives.
Anayancy went to the Head Start program when her daughters were 3 and 4 and later had a son entering Head Start. During meetings with CPC's Mrs. Penny early on, she was asked if she was interested in taking English lessons. Anayancy was interested in that, but also GED classes and nutrition classes that provided completion recognition on paper motivated her to look for more. Later, Mrs. Penny spoke to her about the Getting Ahead classes. With each class, she gained more knowledge, and upon completing Getting Ahead and other classes, her English improved and she could help her children more in their tasks and projects.
"I didn't like to stay alone at home without being able to do something to improve my life financially, speaking the English language, and the life of my children. An important anecdote that happened to me is when my daughters ask, 'Mami (mom) today are you going to your classes?' If I say yes, they say it's okay, Mami, after your class we will be able to go out to play or go for ice cream. A relative showed me a commercial on Fox43's page, and there appeared a video we made with United Way. She told me, 'Ana you are already famous.' I told her this is what I have been able to do." And what Ana has done is provide motivation for her own friends and family.