Client Success Stories
Alexa Mapstone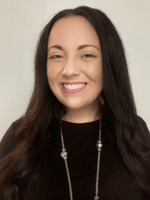 Fayette County Community Action Agency, Inc.
Self-Sufficiency Award Recipient
Reached her destination.  Loving life.  Honored to share her story.
Though Alexa's pregnancy was a complete surprise, she knew she always wanted to be a mother. She always envisioned her life would be more put together when she welcomed her baby, Tru, into the world. She never imagined she would be a graduate student living with her parents, in a long-distance relationship with her child's father - who was also in college - at a job that did not compensate well and had no benefits.
Alexa reflects that journey was not easy. She did not enjoy typing papers in the hospital after delivery or holding a baby when she virtually presented to her class. She was crammed in her high school bedroom, felt exhausted, and experienced many challenges establishing breastfeeding with her daughter. She was sad that her child's father couldn't be there while he finished classes at a university two hours away. She felt scared to be in charge of a little person's life when her own life was not where she wanted it to be. Coffee, her love for her baby, and the love & support others showed her kept her going through this time.
One of those people was Dana, her wonderful nurse from the Nurse-Family Partnership. She met Dana at a local store while picking up their gender reveal cake. Dana informed her about the program, and before she knew it Dana had become one of her biggest cheerleaders. She cannot verbalize how thankful she is that Dana came into her life. She was there for the decision to co-parent and when Alexa was promoted, she asked Alexa, "How are you?"-when everyone else asked, "How is the baby?" She speaks highly about Dana and the Nurse-Family Partnership.
Today, Alexa has a beautiful, intelligent, lively, two-year-old. She lives close to her parents and is employed by an amazing company in a role that she loves. She volunteers to an online platform she created called Piece with Peace, a virtual empowerment group. She realized "being put together" is a vision everyone desires, but no one ever thinks they have reached that destination."
Alexa's life is as put together as it ever was, and ever will be! No, this is not the life she envisioned, but this is the life she is loving! She is proud and honored to be nominated for this award. She is honored for the opportunity to share her journey.