Client Success Stories
Aileen Rosario-Horta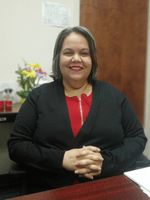 Westmoreland Community Action
Self-Sufficiency Award Recipient
Broke through barriers. Feeling renewed. Pursuing dreams with satisfaction.
Aileen, a Puerto Rican native, was living with her mother in her hometown when hurricanes Irma and Maria devastated the island in 2017. To make matters worse, just a few days prior to the hurricanes, she was discharged from the hospital with pneumonia. The destruction caused by both hurricanes wiped out everything she knew. She was ill without food, physical belongings, or electricity. She found herself facing a life-altering decision. She always dreamed of one day moving to the United States. She knew it was time to conquer her fears and start over.
Along with her mother and two cats, she moved in with her brother, William. The hurricanes' destruction had stripped her of everything she had, leaving her penniless and with a broken spirit. She turned to the state of PA for assistance finding full-time employment and creating a new life. The local County Assistance Office steered her to Westmoreland Community Action (WCA) and the Work Ready Program.
In December 2017, Aileen was accepted into the Work Ready Program, and her road to self-sufficiency was paved. Her long-term goal of full-time employment meant she needed to tackle the language barrier. Her case manager, Joe Darinsig, assisted in enrolling her in an English as a Second Language class at the YWCA. She completed classes and her strength grew. Joe helped Aileen establish herself. She attained a driver's license and worked on her job skills by creating a resume, practicing interviewing, and job searching. WCA assisted her with ancillary expenses such as car repairs, mileage, and anything available to aid her.
Aileen's drive to contribute to society kept her moving forward and knocking down barriers with full force. She states, "During that time I had many ups and downs and thousands of disappointments; but, whenever I contacted my case manager, he gave supported me". Furthermore, she reports that Joe helped her realize that she would find her way. Aileen applied for a Program Assistant position in WCA's Mother's Making More program. She was offered the job and they were ecstatic for her! Her journey to self-sufficiency had reached a milestone. "I was at 75% when I came to the Work Ready program, and they gave me the 25% I needed to be fulfilled," she says. "Aileen came to us walking, then took off running and is now on her way to flying", Joe explained. She purchased a mobile home that she shares with her mother and her brother. She bought her first car and was hired as a case manager in the Work Ready Program. In that office, they were her family and mentors. In 2020 Aileen's knowledge of marketing and data acquisition led her to some intense interviews and a new position at WCA as a Development Associate. In September 2021, she bought her dream home. Her final goal is to finish her BA in Communications and Marketing, and everyone is confident she will. She says, "I will not sit and let life move in front of me without owning it and continuously striving to succeed." WCA is honored to have been a part of Aileen's journey to self-sufficiency and to quote Aileen, "I feel renewed, with my own light, happy and satisfied because you (WCA) supported me." They are eager to see what her next chapter holds.