Client Success Stories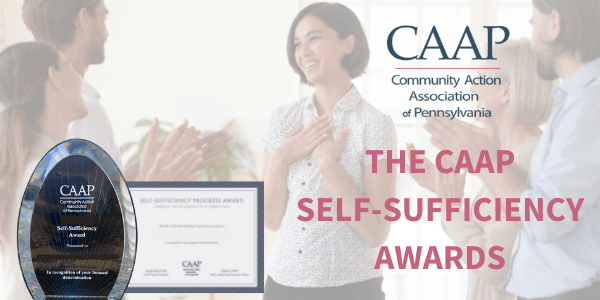 CAAP 23rd Self-Sufficiency Awards
Until 2019, each fall CAAP hosted an in-person Self-Sufficiency Awards (SSA) Ceremony.  Held virtually for 2021, it continues as a celebration of our client's hard work reaching financial self-sufficiency and honors the hard work of PA Community Action from around the Commonwealth. 
November 4, 2021, 23rd Annual SSA Awards Program.
Recording of November 4, 2021, 23rd Annual SSA Awards Ceremony
The Self-Sufficiency Awards By Year
The following client success stories illustrate how barriers to self-sufficiency can be overcome when individuals accept the challenge of pursuing the opportunities provided by their Community Action Agency. Each year, the Community Action Association of Pennsylvania's Self-Sufficiency Awards recognize the significant accomplishments of the award winners while showcasing how Community Action Agencies support an individual's path toward self-sufficiency.
These stories reveal the focused determination and exceptional deeds of those who have faced their own personal journey back to self-sufficiency, head-on.
2021 Self-Sufficiency Award Recipients
2021 Progress Certificate Recipients
---
2018 Self-Sufficiency Award Winners
2017 CAAP Self-Sufficiency Award Winners
2016 CAAP Self-Sufficiency Award Winners
2015 CAAP Self-Sufficiency Award Winners